Evanescence Inc is proud to announce their very first exhibition. An event designed to showcase Melbourne's underground & local creatives.
August 2019
Doors open
23RD / 6PM-10PM 24TH / 2PM-6PM
Ticketed event, available at the door.
Allister Paterson solo exhibition 2019
My Natures Lapse
Opening night, Friday 16 August from 6:30pm
My nature is constant change, undefined, layers of recognisable and unrecognisable.
'The nature of my lapse is to shift into brief or temporary disconnection of concentration and or judgement, to exist in the motion of action painting, a gestural visual language and draw on generic memory to be represented at an interval or passage of time.'
Allister Paterson's works will provide a visual exploration, marrying the nature of ones self within the nature of landscapes captured.
Allister moves instinctively with a frequency at which layers captured are more spread out, swift and appear moving when compared to the frequency and sequence typically used to capture a more refined explanation of what is being seen in the Australian landscape.
Allister gives further insight to this method of creativity with a reference to his child like enjoyment of watching a landscape pass by at speed, and the ability to recognise this in image blur whilst being able to combine or transition out, to recognisable forms.
'When viewed I want to see my landscapes as they appear whilst incorporating change, movement and thus lapsing state'.
'I'm happiest taking this depiction beyond a moving vehicle and have works exist in a lapse at a single reference point, and working with bridging the lapse of season, light and the movement of a landscape'.
Allister Paterson provides a unique insight into ones connection with the nature of landscape painting. Without doubt on the way to being recognised as an important addition to Australia's notable landscape painters.
My Natures Lapse will open on the 16 August from 6:30pm.
Saturday and Sunday 12pm-4pm
Monday through to Wednesday 10am-1pm or by appointment.
Proudly sponsored by Bodriggy Brewing Co. and Terindah Estate
Ellie Hannon
SHELTER
2019 Solo Exhibition July 26 from 6pm. Thursday 27-Tuesday 30th
Ellie Hannon is an emerging Australian artist who works out of her studio in Newcastle NSW. Traversing the fields of painting, drawing, ceramics and mural work in her art practice, Ellie establishes a visual narrative that explores the themes of values, possessions and our relationship with the natural environment, reflecting on how these contribute to our personal identity.
Ellie's landscapes depict dream like stills of the natural world, inviting the viewer to immerse themselves in spaces of nostalgia, contemplation and mysticism. Vibrant, layered and patch-worked with pattern, Ellie's mark making draws on inspiration from textiles, and other worldly objects, fascinated with how handmade artefacts can be a time capsule for unique narratives, histories and memories.
Since completing her Bachelor of Fine Arts at Newcastle University in 2009 Ellie has spent 3 years living in South East Asia working on community art projects. Returning to Australia in 2014 Ellie has focused on her professional practice as an artist exhibiting at the Corner Store Gallery in Orange, Newcastle Art Space, Backwoods Gallery Melbourne and exhibiting as a part of the MAKEit MADEit conference in 2017. Over the past 2 years, Ellie's practice has lead her into working on large scale site specific murals that depict abstracted scenes from nature, appreciating the resilience and ability of plants to regenerate and reclaim an environment after human intervention.
Brad Teodoruk and Tom Ferson joint exhibition
Opening Friday June 28 6pm-10pm
Closes July 3
Tom Ferson's artistic output (pictured right) is wildly varied but nevertheless unmistakable.
In addition to having developed a unique and time-consuming process resulting in him being dubbed by Monster Children Magazine as 'Australia's most patient Artist'. Tom has applied himself to a variety of media from drawing and painting to cross-stitch and even interactive work. What has emerged through this insatiable exploration are a few unifying signatures - a deft touch, an otherworldly and distinctive colour sensibility, and an inclination toward the subtly surreal and psychedelic.
Born and raised in Sydney and currently living and working in Melbourne, Tom's next significant body of work is already well underway; a series of paintings with a focus on narrative, relating a fascination with everything love, sexuality and intimacy.
Brad Teodoruk's work (pictured left) has an air of free association, as though he is showing us a mind-map that is at once personal and drawn from the public domain. The viewer is prompted to immerse themselves by filling in gaps through curiosity and recognition.
A spur-of-the-moment practice as instinctive as Teodoruk's should almost preclude a disjointed body of work. Nevertheless, the works are united by the common theme of omission and layering, recurring imagery, and the artist's unmistakably individual style.
FORGOTTEN LANDSCAPES
A group exhibition by Jenny Allnut, Kate Gagliardi, Maria Petrova and Brain Foetus.
Displaying works from their recent artist residency at Qbank Gallery in Queenstown, Tasmania.
Opening 6-10pm MAY 24
LVL 1/288 JOHNSTON ST (ENTRY VIA LULIE ST) ABBOTSFORD
Mitch Walder & Chehehe/DodgyPaper
Gone Walkabout is a joint exhibition of new works by Mitch Walder and fellow Arts Hole studio member Roger Wilkie, aka Chehehe & Dodgy Paper. The new body of work is a visual documentation from their time as artists-in-residence at QBank Gallery in Queenstown, Tasmania.
The month-long residency along the rugged west coast of Tasmania saw the two Melbourne-based artists document their geological and psychological trekking among the regrowth of the town and natural surroundings at the foot of the glorious Mt. Owen.
Walder used the time to explore and experiment with multiple methods of painting and conceptual pathways. Wilkie combined his two personas in a quest to further develop both practices simultaneously. Both were captivated by the land which greeted them through hikes and journeys with locals. In Roger's case, literally using samples of the minerals from the land in experimental artworks and paper making. Meanwhile, Walder finding inspiration in the local palette and dialogue around town.
The artists also immersed themselves into community activity as they both hosted a local school class as well as tourists and locals into the space. Walder trained with the local football side on the famous gravel oval as well as joining Wilkie in multiple murals around the town.
The show is opening Friday April 26 and runs until April 30. Opening Night sponsor is Bodriggy Brewing Co.
Nadia Hernández
SANGRANTE IMATACA
Opening Thursday 11 April, 7-9pm
Exhibition: 10 - 18 April, 2019
Sangrante Imataca is this body of work. It is also the title of a poem written by my grandfather in 1997. Last year, before I started to create these works I asked my grandfather about his poem. He said:
"Me inspiró escribir el poema la criminal devastación del ecosistema guayanes con la explotacion del oro utilizando metales tóxicos como el mercurio y destruyendo el bosque amazonico. Dejando la tierra arrasada sin vegetación."
"I was inspired to write the poem about the criminal devastation of the guayanes ecosystem with the exploitation of gold using toxic metals such as mercury destroying the Amazon forest. Leaving the scorched earth without vegetation."
In search of a new language to describe the existing social, humanitarian, political and environmental crisis plaguing my home country, Venezuela; and my personal and familial experience in the midst of all this, phrases extracted from my grandfather's poem take on multiple sentidos (meanings, sentiments, directions, causes), urging consideration for the precarious state of our environment, shared history and future.

Nadia Hernández, 2019
Tom Gerrard
Tom Gerrard's art career started in the mid-90s where his art could be found on the streets of Melbourne. These days, he's globally known for painting simplified characters, architecture and nature using a minimal colour palette. The characters and elements that make up his paintings have been inspired by people he's seen and places he's been.
Tom's gallery work is an evolution of style and technique that was learned painting on the streets. He has fused this style with acrylic paints, water colours and any other materials that he can find in his studio.
After eight years of travelling around the world, Tom returned to Melbourne in 2016. Since then he has placed his artistic focus exclusively on Australian life, suburban culture and his natural surroundings. He has utilised his thirteen years working as a graphic designer, and as a result his art has a graphical look as he works with a minimal colour palette and strips back his subjects to simple shape and line work.
Tom has settled back into Melbourne life where he paints murals at large art festivals across the country, exhibits in prestigious galleries such as Bromley & Co and Benalla Art Gallery and collaborates with some of the country's biggest names in contemporary art.
In February 2016, Tom moved back to Melbourne where he continues to work as an artist and run his art podcast, Bench Talk.
BIOGRAPHY
Ed Bechervaise, otherwise known as Unwell Bunny is an artist and creative based
in Melbourne Australia. Ed's artistic career began in the early days of 90's graffiti, in his
home town of Adelaide, following a mix of both letter and character based aerosol art.
After some early studio arts, graphic and conceptual study at Uni SA and RMIT,
Ed moved to Melbourne in 2002 and began following Melbourne street art in 2003.
He quickly began to produce new kinds of work that was largely figurative and character based.
In 2004-5 he began showing work in Melbourne galleries and was also active on the street, leaving paste up and graffitiworks through the lanes and suburbs of Melbourne. Ed had his first solo exhibition at Per-square Metre Gallery in 2006.
After a number of other solo exhibitions in Melbourne, Ed traveled to Europe and lived in
Amsterdam spending time with influencial urban contemporarry artists. After returning to Australia in 2013 he was included in Metro gallery's
'International street art exhibition' Confirming a place as a emerging international Australian urban based artist.
In 2015 Ed had his first international solo show at Gallery LaCroix in Paris,
which saw his aesthetic turn from raw aerosol expressionism to a more graphic geometric,
neo cubist style influenced largely by European painters.
In early 2016 he traveled to the USA and received mentorship by a number of highly influential American artists, which has continued to curve his practice, furthering an interest in the international urban contemporary art scene.
In 2017 Ed had two highly successful solo shows in Melbourne one independently organised at Besser Space in Collingwood in January and the other with Backwoods gallery in October. Ed describes his artistic philosophy and practice as 'exploring the popular subconscious'.
The mountains we climb:
The mountains we climb is a new body of work in which Ed after visiting, decides to explore Japan, and its sensabilities.
Its layers of feeling, through the chaos of Tokyo to the stillness of Kanazawa hills.
Each image is broken down into fragments, with slabs of colour, texture and tone, that symbolise the experience, weather by night or day, dusk or after dawn. This is a time capsule of travel, but also of the struggle and exploration each of us go through in growing as people and evolving beyond what we know. The mountains we climb is about pushing limits of understanding. Exploring that place that brings discomfort, pushing the elements of your processing ability. For Ed he has done just this with his exploration of abstraction, and re interpretation. Pushing forward a more sophisticated pallete. Deconstructing the elements he has recorded and re shaped through memory and feeling of Japan. Finding new cords with colour and with textual mediums that join together to form landscapes. A subject Ed has decided to explore for the first time.
Its another in a list of evolving themes, and explorations, there is a new constant in abstraction and the influence of neo cubism, self exploration and redefining a new age visual landscape continuously to climb new artistic mountains in search of something new.
One small step...
Marfa Gallery is delighted to announce the arrival of Conrad Bizjak and Christopher Hancock's recent body of work, created during their artist in residency in Queenstown Tasmania.
Marfa presents QUEENA the talented works of Geena Castellano.
'Geena Castellano is a Melbourne based artist who grew up on the surf coast of Victoria.
Her art practice has always been a communion with her life and experiences. She has been drawing and painting since the age of 4 as a means of understanding her place within the world.
Influenced by her late boyfriends early tag 'simple', this body of work demonstrates the power of simplicity as an invitation for imagination.
This is Geena's honest expression of herself and the raw nature of the female. The QUEENA inside every woman.'
Begins at 4pm Friday 1st of June.
Opening night Friday June 1 from 4pm to 9:30pm
Saturday and Sunday from 10-5pm
Mic Porter is back with Sulfur Burn a new body of work comprising of paintings, sculptures and installations.

Michael Porter is a renowned Melbourne based contemporary artist. A multi disciplinarian practising in both painting and sculpture and blurring the lines between.
Opening Night 18 May 2018 4pm-9pm
Sat-Sun 2pm-6pm Tue-Thur by appointment only

Marfa Gallery is pleased to present Steven Joshua's latest works.
Steven is an emerging artist based in Melbourne. He is affiliated with the Hawthorn Artist Society and focuses on painting with the use of acrylics.
'In life, we find ourselves either colouring inside the lines or moving freely to see where it takes us'.
'There has to be a constant tension between these two. Too much structure and you become rigid, unable to move forward. Too much freedom and you lose touch of reality, losing track of the goal at hand'.
In "Ambivalence" Steven looks at the relationship between structure and organic movement. How do we marry the two so we have balance? Can we truly join them or is there a constant ambivalence?
Instagram : stevenjoshua.art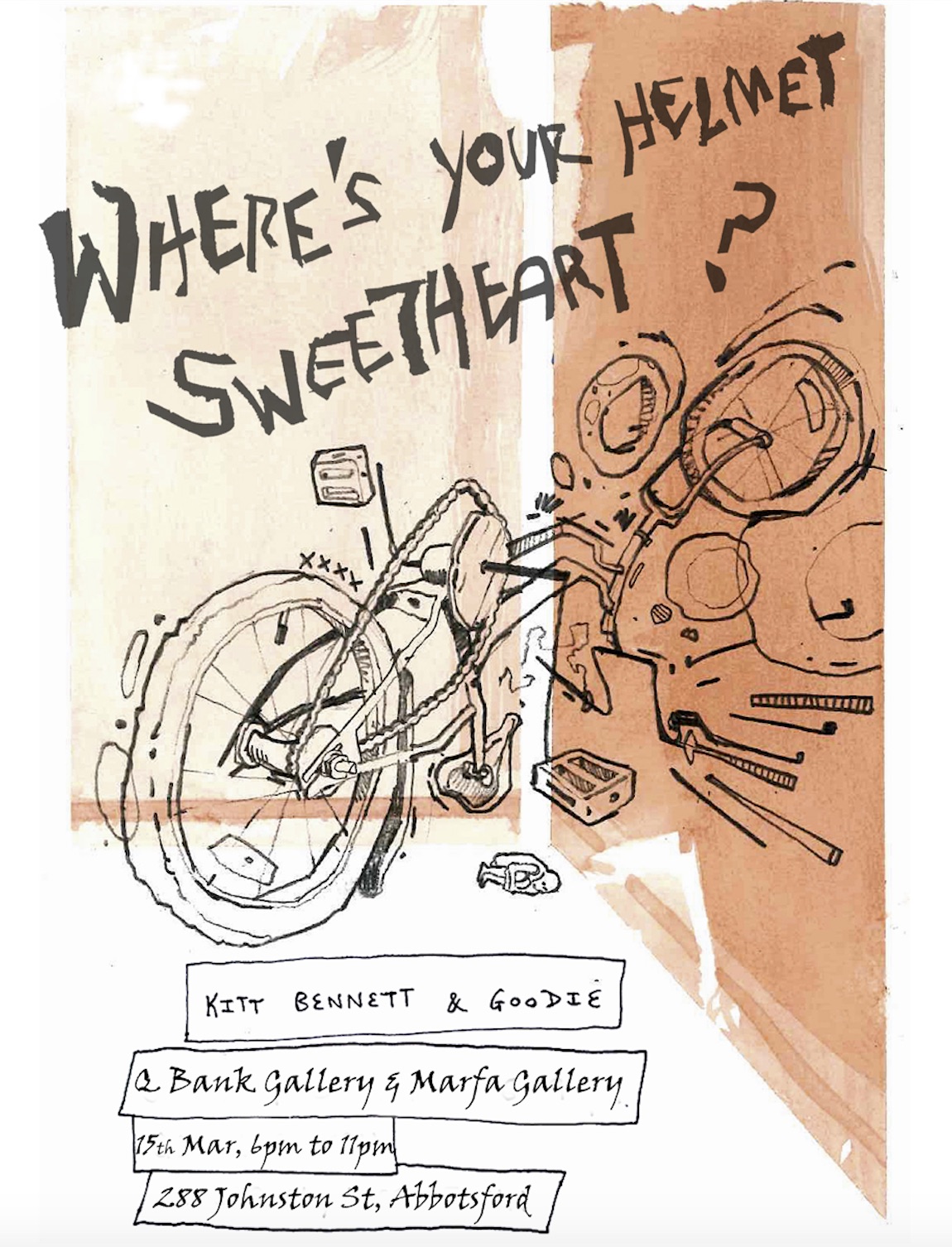 Marfa Gallery is proud to announce, Where's your helmet, sweetheart?, its next joint show comprising the amazing body of work done by Melbourne based artists Goodie and Kitt during their residency and opening show at QBank Gallery, Queenstown on the 3rd of March, before heading to Marfa Gallery on the 15th of March.
Goodie:
How does one look at all objects and people as friends? This is the sense you get from Goodie's art.
Like one of her influences, the surrealist René Magritte, you immediately feel a connection to her subjects, even though they are out of place or perspective.
This is because she is ultimately influenced by her friends. And this is not only the artists she knows and admires.
"Anything can be a friend," she says, "whether it's an object, feeling, place or otherwise."
It's the essential aspect her underlying interest in notions of familiarity and association, particularly how recognisable objects, people and spaces can be defamiliarised and re-understood through different narratives or structures. Originally from Canberra, Goodie is now ensconced in Melbourne, where she graduated from VCA. As an interdisciplinary artist working predominantly in painting as well as installation, performance, sculpture and poetry.
Learn more:
https://www.instagram.com/goodie_was_here/
http://www.goodie-was-here.com/
Kitt Bennett:
You know you're in Kitt Bennett's artistic world when you find everything full of life, even typically inanimate objects like discarded bicycles and skeletons.
The latter recently featured in a huge mural by him across three basketball courts. It's a fascination he's had since a child when he started collecting bones, including human fingers.
Primarily an illustrator, Kitt is constantly exploring new media and techniques that help him develop and evolve.
But the common threads that inspire him to create art are his infectious dark humour and the examination of individuality and the mysterious phenomena that surround us.
Learn more:
https://www.instagram.com/kitt_bennett/
Don't miss this and we'll look forward to seeing you there.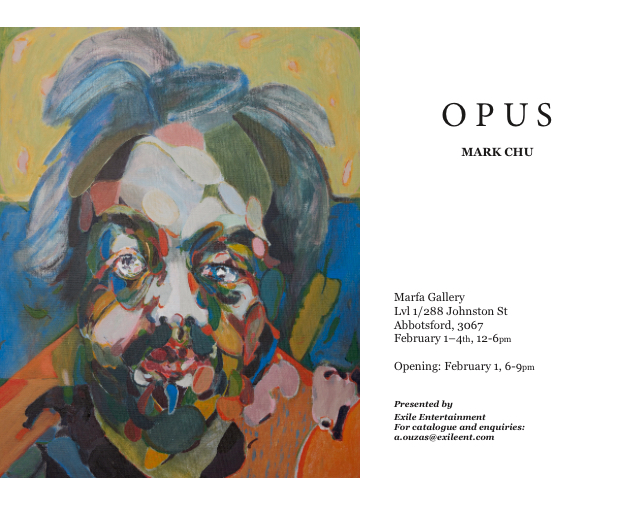 Marfa Gallery is pleased to announce the first show for 2018 being the extremely talented Mark Chu, with his opening show titled OPUS.
// OPENING NIGHT: 1 February 6-9pm
Drinks provided by Goose Island Brewery//
Catalog https://goo.gl/5Za73D

// EXHIBITION HOURS: 1 - 4 February 12-6pm
For catalogue and inquiries: a.ouzas@exileent.com and or marfa@marfagallery.com
marfagallery.com

// O P U S is a word from my childhood // Painting is a performance with a delayed audience // I like sinewy faces // My subjects are taken from everywhere // Faces are easy to abstract //

Chu returns from his New York studio for his fourth solo exhibition, showcasing a vast body of over 80 new works. O P U S centres on portraits, using gestural brushwork and strident colour to generate the questioning expressions that characterise Chu's work.

Presented by Exile Entertainment // Produced by Alexi Ouzas and Cara Friedman // Photos by Jesper Hede.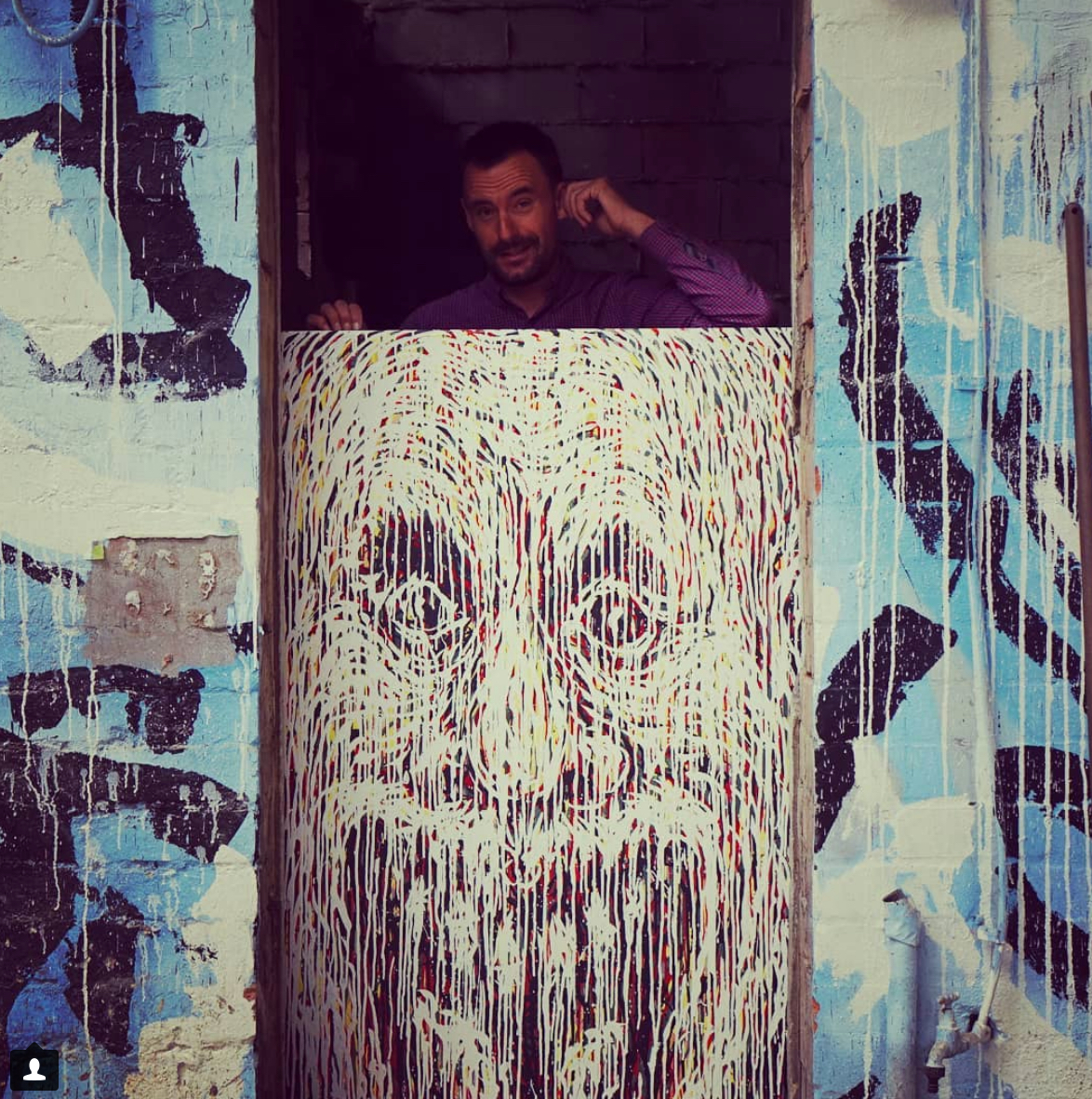 MICHAEL PORTER
UNIQUE RELICS OF THE 20TH CENTURY
Paintings and sculptures by Michael Porter.
A new body of work comprising of paintings, sculptures and installations. Exploring ideas of beauty, conformity and the self.
Michael Porter is a renowned Melbourne based contemporary artist. A multi disciplinarian practising in both painting and sculpture and blurring the lines between.
Opening Night 15 December 2017 4pm-9pm
Sat-Sun 2pm-6pm Tue-Thur by appointment only
Dec 15 to Dec 22
MARK WHALEN
PRESSURE
The figures in Mark Whalen's works often appear to be in a state of unrest; whether amongst an angst-ridden room full of frenetic activity or metaphorically, where the state of mind appears trapped within a combative juncture. Across a new series of paintings Whalen has his figures – androgynous beings – strapped down and bound, in what has become an ongoing study into the complexities of displacement.
Opening Friday 10 November, 7-9pm
Exhibition: 9 - 18 November, 2017
Tue-Fri 10am - 3pm
Sat 12am - 4pm
HOKUSAI'S CHILDREN
Hokusai's Children, an exhibition inspired by the great Master Katsushika Hokusai.
Original artworks by ATG Members
Opening Night- Thursday 12th Oct Marfa Gallery, level 1/288 Johnston st, Abbotsford, Melbourne.
By appointment thereafter until 20 Oct. 2017
Sponsored by @moondogbrewing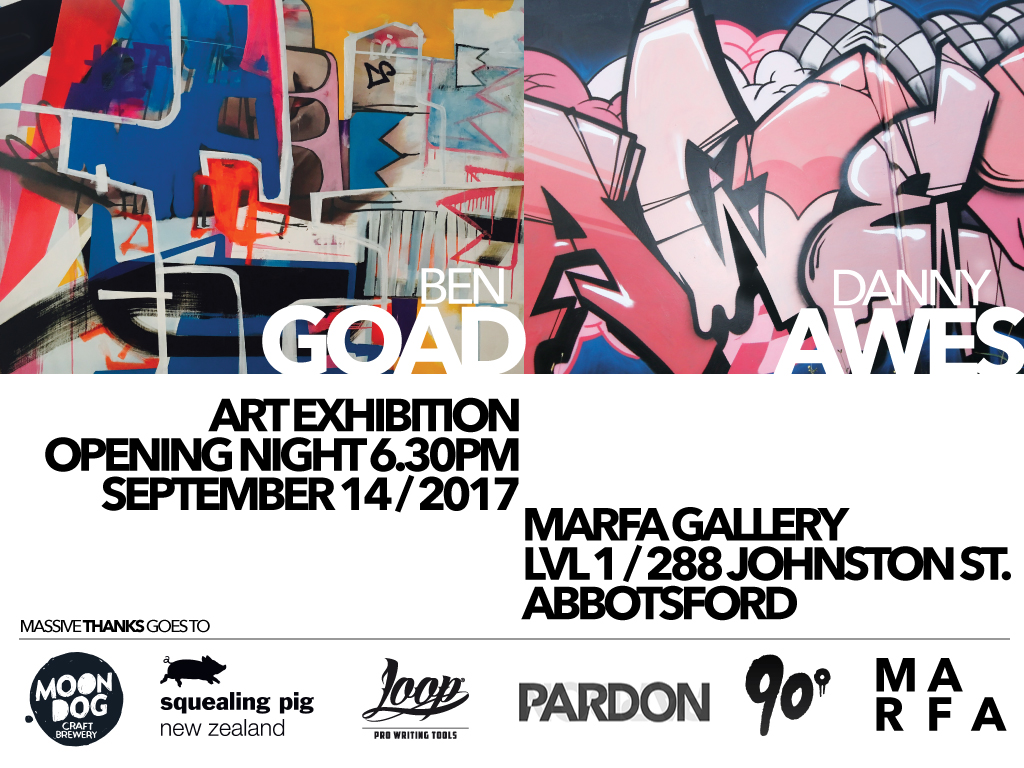 IN SOME WAY
Presenting Melbourne based and Marfa Gallery's resident artist Allister Paterson.
Showcasing a new body of work comprising of oil paintings that explore landscapes that redefine the nature of which they are identified.

18 MAY 2017
6:30pm till 9:00pm
Sponsored by Terindah Estate